Grand Opening of the Well Link Bank N.A.P.E. Branch
Comprehensive Smart Branch - Innovative Technology for Greater Convenience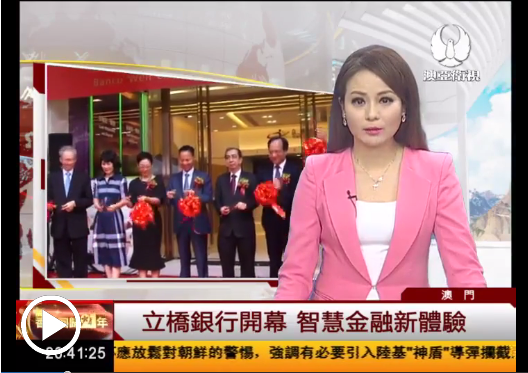 Reported by Macau Asia Satellite TV, July 1 2018.
The Well Link Bank N.A.P.E. branch officially opens today. The opening ceremony took place at shop Q, ground floor, Walorly Building, Alameda Dr. Carlos d'Assumpção. The guest representatives in attendance were Ms Zhu Hong, the Deputy Director-General of Economic Affairs Department of the Liaison Office of the Central People's Government in the Macao SAR; Mr Iong Kong Leong, Director of the Financial Services Bureau (DSF); Mr Ma Iao Lai, President of the Macao Chamber of Commerce, and his wife; Mr Lin Funan, President of Taiwan National Exhibition Committee for Arts ; Mr Vong Hin Fai and Mr Si Ka Lon, Macao lawmakers; Mr Jiang Yidao, Managing Director of China Taiping Insurance (Macao); and CEM - Macao Electricity Company, Ltd. In addition, a number of senior staff members of the Well Link Bank were also present at the opening ceremony, including Mr Xu Chujia, Chairman of the Well Link Bank's Board of Shareholders; and Mr Zhang Shengman, Chairman of the Well Link Bank's Board of Directors. The Well Link Bank N.A.P.E branch is a smart branch established in Macao. Various innovative smart services such as "smart counters" and "smart coffee tables" are freshly introduced to provide Macao residents with comprehensive smart banking services. These include "online banking", "mobile banking", "WeChat banking", and "remote queuing with WeChat official account", all with the aim of becoming an excellent financing partner for Macao residents.
Macao actively complementing the national policy in developing a unique financial sector
The country's promotion of the construction of the Guangdong-Hong Kong-Macao Greater Bay Area presents itself as an unprecedented development opportunity for Macao. The Greater Bay Area will be one of the most active economic zones in the world. For historical reasons, Macao not only serves as a bridgehead for enterprises in Portuguese-speaking countries intending to enter the mainland market, but also a bridge for mainland enterprises to go out to Europe. Moreover, Macao will become one of the core cities in the Greater Bay Area. By complementing Hong Kong's strengths, Macao will be the second Pearl of the Orient after Hong Kong. Macao possesses the immense integrated resources and support from the Greater Bay Area as well as a competitive financial and geographical location. In addition to enjoying the convenience brought by the mutual access between the mainland and Hong Kong, Macao can leverage the "One Country, Two Systems" policy to present itself to the world, which significantly boosts Macao's competitiveness in developing featured financial industry. This is indeed a historical moment that witnesses Macao's development in the capital market and the financial sector.
With China's increasing international influence in politics, economy, and industrial culture, Macao will certainly see an economic boom along with national developments. Furthermore, the financial sector will become another major sector in Macao after the gaming industry. On top of that, the internet-driven future means that it is not feasible to develop independently. Therefore, the building of a regulatory mechanism of mutual online networking access must be accelerated. Just as the Macao SAR Government endeavours to promote "going out" and "bringing in", this will keep us abreast of the global developments and move forward at high speed in the future.
As a local bank in Macao, the Well Link Bank serves as a bridge for exchanges between Chinese and Western businesses and cultures, and upholds the values of "integrity, service-orientation, and innovative development". Furthermore, the Well Link Bank endeavours to develop itself into a bank with its own characteristics in the Guangdong-Hong Kong-Macao Greater Bay Area, and forge ahead towards developing the featured finance industry, with the help of a group of leaders from different regions and with backgrounds in quality industries. Smart finance will continue its development as time progresses. Only by integrating into the national construction of the Greater Bay Area can the Well Link Bank have tremendous potential and space for development.
A smart branch established in response to the call of the Macao SAR Government
Innovative financial technology was nurtured due to the purpose of providing convenient services to clients more effectively. That is, the world has seen steady advancements in financial technology, and that the construction of a mechanism for mutual online networking access has become all the more urgent. Adopting brand new smart devices, the Well Link Bank will provide its branch clients with refreshing service experience. At the lobby of the smart branch, the customer manager will carry a tablet to interact with clients and provide them with higher-quality smart services. Furthermore, the branch is equipped with "smart counters", offering various non-cash services more quickly. These services include debit card management, password management, money transfer, chequebook application, mobile banking account activation, bank passbook updating, and so on. Clients applying for debit cards and signing up for mobile banking services will only need to fill in the necessary information when completing a form, thus saving time that would otherwise be spent in filling out application forms. In addition, "smart coffee tables" are set up in the lobby to allow walk-in clients to check the Bank's news, major businesses, and products. "Smart counters" are designed with a loan calculator and a deposit calculator, with which clients can prepare their financial budget in an efficient manner. ATMs in the branch will provide 24/7 cash automated services. Meanwhile, UnionPay debit card shopping services and ATM services will be launched soon. Via its official WeChat account, residents can access the Well Link Bank's latest news, search for financial information, and make remote reservations and get queuing tickets before visiting the bank.
Mr Zhang Shengman, former Managing Director of the World Bank and current Chairman of the Well Link Bank's Board of Directors, stated at the opening ceremony of the N.A.P.E. Branch: "innovative financial technology and smart banking services will become the general trends of the global banking industry's future development. Smart financing services have developed rapidly and become the most common means of financing for residents. The N.A.P.E. branch is developing in the direction of smart banking. In the future, it will provide increasingly diversified and innovative financial products and services, thereby offering clients quicker and more convenient services. I am extremely delighted that the Well Link Bank inaugurates Macao's first smart branch today in N.A.P.E."
The N.A.P.E. branch will be put into operation tomorrow. During this initial stage of operation, we offer several exclusive special offers for new clients of the Well Link Bank's smart financing services. The promotion includes high interest rates for deposits, gifts for opening accounts, fixed-term deposits with gold as a reward, low interest rates for entrepreneurship loans, and year-end lucky draws.